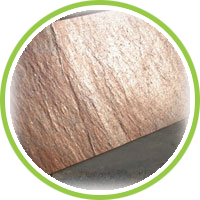 This is basically referred as sandstone. It is metamorphic and hard rock. When pressure and heating is applied in terms of tectonic compression inside organic belts, sandstone is being transformed into quartzite. Its pure color ranges from white to grey but sometimes, when iron oxide is present into it, its color may differ from pink to red.
It contains few appealing properties like a high level of resistance to chemical weathering and often builds resistant hilltops and ridges. Its features surface finishing that may be either natural or sandblasted. We would like to divulge to our clients that few varieties yield desired result only in a case, when the choice of finishing is done cautiously.
Being a customer oriented company, we are dedicated towards providing utmost satisfaction to our clients. We do lay a strong emphasis on formulating and maintaining transparent policies, long-term relations with our clients and hassle-free experience of placing orders and ensuring on-time delivery. There are many aspects due to which, we take a lead in the industry.
Those notable aspects are spacious warehouses, in-house R&D, in house quality control, in house edge profiling, in house cutting and calibration. Apart from that, we have also gained sufficient experience and expertise in offering customized solutions for various products like granite, quartzite, slate stone, sandstone, etc.
There are many varieties of quartzite that are quite popular in India. The list of those varieties are comprised of Badnor shine, Bhilwara pink, heritage pink, Himachal green, ocean green, Shimla white, Himachal white, Himachal black, silver grey, etc. You are requested to browse the catalog of diverse ranges of quartzite, in order to choose the suitable product and thereby you can send a request for gaining more details related to a desired product.
You can count on us regarding durability and quality of the products because these are the aspects where we don't prefer to adopt a comprising and careless attitude.