Stone pebbles: Excellent creative design idea for your beautiful home
Stone Pebbles refer to something that is larger than granules and are smaller than cobbles. They are gaining immense popularity during modern era in the context of the indoor and outdoor home décor. They are used in numerous purposes. Generally, they are segregated on the basis of different colors, textures and sizes. When, they undergo polishing, their texture and color enhance up to a great extent. In modern era, they are used extensively for the purpose related to landscaping, decorative and construction. When it comes to uplift the décor of driveways, walkways, pool surroundings, plant and tree surroundings, decks, patios, etc, stone pebbles can work wonder.
Small sized pebbles may be used in creating gardens and living spaces on the rooftops of buildings. Large-sized stone pebbles may be used as paperweight and artifacts. They are also widely used in creating pet rocks for children.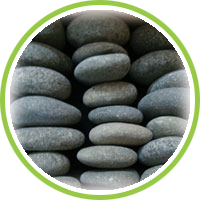 Stone pebbles are becoming popular because people now crave for natural look. Man-made artifacts certainly speak of captivating craftsmanship but nothing can stand in front of natural look. If you are in quest of those unique ways through which you can transform the entire ambiance of your home, you should think about stone pebbles.
The popular color in pebbles includes black, green, red, white, etc. There are also available multi-color pebbles in the market. These days, the most recent trend regarding the use of pebbles made up of stone is, to inscribe the pebbles on the name plates. This way, the nameplates can appear extremely fascinating and stylish. Another trend that is in rage these days is, pebble border on mirror. You will notice that the mirror has transformed into a captivating artifact instead of merely being a utilitarian object in your house. Pebble tiles are expecting to be a hit trend in kitchen and bathroom décor.