Stone bases are among one of the fascinating avatars of stone-related products. These bases are used as a foundation for the table stands of stone pillars. They possess a great deal of artistic appeal and are extremely capable of enhancing the appearance of the home or its surrounding areas. Especially, for garden décor, stone base proves to be an ideal choice. There is certainly no limit to the creative ideas for adorning the interior and exterior space of the home.
Whether it is about creating a charm into the interior or exterior design or whether it is about adding a touch of glamour to an area, stone base fits the purpose in an excellent manner. Stone bases may be used for keeping a dining table. Besides that, any kind of wooden structure may be placed on top of it and sculptures made out of natural stones may also be placed on them.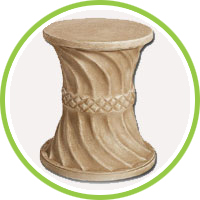 Elegant Natural Stones is among those companies that believe in offering quality oriented stone related products to its esteemed clients. As far as the variety is concerned, you will be stunned by browsing through our extensive collection that include slate stone bases, marble stone bases, granite stone bases and stone bases made out of many more materials.
We welcome the queries related to the customized orders. In case, what you have been looking for is not available in the catalog then please feel free to contact us and we will revert to you promptly. Since, our production is on large scale, we are capable of catering to the customized requirements of our clients. Stone bases are also an excellent product that is worth investing due to offering convenience in handling.
If you are among those, who often change your residence then it is certainly an excellent product that will offer you a hassle-free experience, while you will be shifting to another home or apartment.