Elegant Natural Stones has emerged as a one stop destination for various interior and exterior stone-related products. We offer extensive range of stone fountains that include mesmerizing traditional and chic contemporary designs. Whether you want to invoke the nostalgic feeling of elegancy or whether you are striving to make a style statement by adding a touch of modernity in the interior or exterior space of your house, stone fountains prove to be an ideal choice. These stone fountains have been carved by our talented craftsmen who possess a knack of creating impeccable masterpieces.
Stone fountains can be used to enhance the aesthetic sense of various areas of architecture like garden, museums, interior space of a house, etc. Especially for a spacious area, stone fountain can be a best possible way to use the space in a fascinating manner. They are available in diverse color options, designs and carvings. Our product range includes indoor stone fountain, outdoor fountain, waterman fountain, marble fountain, sandstone fountain, etc.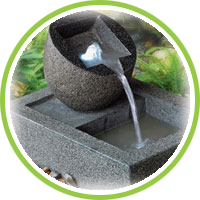 From past few years, people have become more specific about their garden décor. They keep looking for various ways to add a beautiful touch to their garden and they keep looking for innovative ways to use the ample space of the garden in a unique manner. If you have a spacious garden then beyond any reasonable doubt, stone fountains are among the best products to fulfill your motive.
If you love the trickling sound of water and being near to water makes you feel relaxed then don't delay and have a glimpse on varied kinds of stone fountains in the catalog, showcased by us below, where we have brought to you, many amazing sample designs.
For more information regarding availability of specific color combination, availability of a product in a specific material or design, please free feel to contact us.