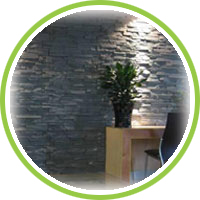 Perk up your home décor with stone panels
When it comes to adorn homes, the use of stones in diverse forms has always been successful in earning kudos from the onlookers. Stones not only create a natural feel in your home, but they also enhance the elegance of your home. It is no exaggeration to say that stone has been an eternal option related to the home improvement projects. Stone pebbles, stone panels, stone handicrafts, stone pillars, etc can truly refine the entire ambiance of your house by providing a natural look to it.
Stone panels are gaining immense popularity these days. They can be used in numerous applications. Stone panels have been delivering consistent performance in the building exterior that too all across the world. The secret of their popularity lies in a fact that they are capable of withstanding any kind of adverse weather condition. Their use provides extreme level of flexibility to the architects. They can be easily and quickly installed and they prove to be extremely cost-effective.
For the home renovation purpose, the majority of the home owners are now turning to Stone panels, since they prove to be an appropriate solution for both interior and exterior home renovation. They are considered to be most cost-effective option as they can be directly installed over the existing cladding. For retail construction purpose, they again prove to be an ideal choice. They can be quickly installed and feature superior durability.
How can Stone panels lag behind in uplifting interior home décor? When they are installed on ceilings and lobby walls, they evoke a mesmerizing feel. They demand no maintenance at all and due to the same reason, they enhance the demand of occupancy. They are big hit in the construction of high-end residential projects. They are now extensively used in wall-cladding, interior cladding, balcony flooring, etc. If you were unaware about stone panels, think about them because they can truly perk your home décor to a great extent.