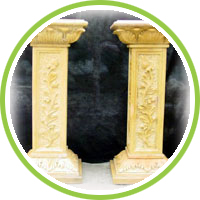 Who doesn't like to adorn his house in the best possible manner? In comparison to the earlier, there are available plenty of alternatives for enhancing the aesthetic appeal of your house. Elegant Natural Stones strives to offer various products related to the stone that can add charm to your house. The products include stone pillars, stone fountains, stone figures, stone table tops and exclusive stone items.
As far as stone pillars are concerned, they create a sense of uniqueness in the house architecture. This product is absolutely appropriate for those people, who don't prefer to settle for something ordinary as one can make an outstanding style statement by opting for fascinating stone pillars.
The biggest reason for their rising popularity is that, they not only add a touch of sophistication in the house, but stones also add strength to the architecture of the house. We have garnered a valuable experience in providing stone pillars of various materials including sandstone, marble, etc.
We have not only superior products but we have exceptionally talented team of stone craftsmen who believe in going to the extra length in proving their craftsmanship.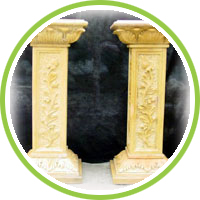 These craftsmen have received the art of developing brilliant sculptures from their ancestors, in their inheritance. Apart from possessing a team of skilled craftsmen, our company is equipped with ultra modern amenities and machines that further enhance the reliability of our products.
With a strong focus on research and development, we ensure that we provide something exceptional to our esteemed clients. In case, if you are looking for exclusive designs, durability, superior quality, then you have landed at a right destination.
You can have a glance on diverse kinds of carved stone pillars in the catalog provided by us below where we have showcased sample designs. For more information regarding designs and in order to brief us about your custom requirements, please free feel to contact us.