India is a country with variety of stones and the artisans here excel in craftsmanship and the combination has resulted in beautiful artifacts that are appreciated not only in the country but abroad also. The tradition of carving beautiful artifacts from stone is age old and Taj Mahal is one such example of excellent artisanship.
The artifacts made of stone like statues, decorative items, Jalis, artificial fountains are used for decorating interiors as well as the exterior of houses and other buildings. We provide stone made handicrafts and also export to various countries. Our highly skilled artisans make these handicrafts so brilliantly that they enhance the beauty of the structure wherever they are placed. Cravings on the stone pieces are done and later on, they are painted which gives them an elegant look.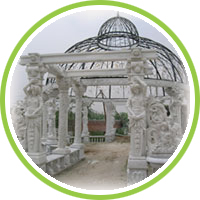 Elegant Natural Stones has been catering to the needs of customers and has since many years and has taken the responsibility of providing the best stone made handicrafts which range from figurines to jewelry made of precious and semi precious stones. The jewelry is liked and adorned by all and we have the largest variety of the same at our stores. The stone handicrafts are durable and will certainly enhance the beauty of your office or house wherever they are placed.
Handicraft items can be given as gifts and these are liked and appreciated by all. We have animal structures carved out of stone and later decorated with bright colors and stones, in the same way we have figures of gods and goddesses beautifully carved painted and designed by our excellent artisans. We share the passion for stone handicrafts with the world and are constantly striving to give best that enhances the beauty of your house. These items will never be out of trend and will always be loved and appreciated by whoever looks at them.