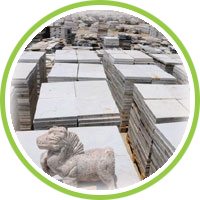 An infrastructure is the backbone of a business. It plays major part in the success of the business. A good infrastructure makes the production process smooth and helps to create a healthy working environment.
We, Elegant Natural Stones posses a modern infrastructure loaded with the latest technologically advanced equipment. We, ENS are one of the first companies in Rajasthan to have incorporated the latest stone cutting & polishing machine in our production process. The result is in front of everyone, Elegant Natural Stones are the leading exporter, manufacturer and supplier of natural stone. A look at our portfolio will tell you that we deal in every kind of natural stones from limestone to sandstones; supreme quality marbles to durable granite etcetera. When it comes to decorative stones, we are the name to reckon with, our stone handicrafts, stone paintings, stone figurines will simply enhance the beauty of your home, office or garden area. Our supreme quality, reliable cost, and superior service have made ENS a reliable name in the world of natural stones.
Quarries:
We have our own large chain of quarries across India. We use the latest technique and technology to excavate stones. The stones are then cut & carefully polished using the most advanced stone cutting and polishing machine. The result is top quality natural stone in various finishes. We are capable of meeting any demand within the stipulated time. If you are looking for wholesale, or bulk purchase then Elegant natural Stone is the right place since we have our own mines, our prices are reasonable. We offer supply all over the world.
Our Team:
We at, ENS are proud to have an extremely talented and experienced team of personnel. Their sheer dedication & hard-work have been one of the significant features that have made us the natural stone industry leader. They are completely involved from the exaction to processing, dressing, inspecting and loading the shipment; their work only ends when the shipment is safely delivered at the client's place.
We are a very big happy unit comprising of administrative staff, managerial staff, employees of various department, craftsman, laborers, and artisans with a common goal to deliver high quality product & service to the customer, making dealing with us a pleasant and hassle free experience for our valued clients.
Storage:
We have large warehouses, which assists us in running business operations in a very smooth manner. Extremely spacious, these storehouses have a large space to store different kind of natural stones under one roof. We have divided it into different sections, so stones according to their category are put at one place. This makes handling and transportation easy.
Packing:
Natural stones are quite expensive. They need to be handled carefully. We have a dedicated packing team that ensures that the stones are packed carefully in sea worthy wooden crates, so probability of damage is minimized. Our packing team keeps a track of the shipment till it is delivered to the client. The customer own their behalf can call us to know the status of consignment, our team would be happy to help.