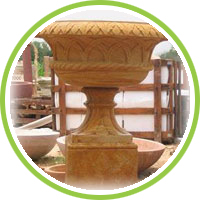 The stone planters are very good in their look and undoubtedly these are very strong too. These are one which hold very long life compared to the terra-cotta ones generally used as planters. Different types of stones can used in the formation of these.
We, Elegant Natural Stones hold extensive experience in this field and we have delivered thousands of stone planters in India and abroad. It is with us that you will find the most exquisite range of planters made of different stones that are not only used as pots for plants but these are masterpieces of art as well.
If you wish to give your garden, home, office or any other space a eco-friendly step up in looks, choose the planters made by ENS.
In the olden times, these planters were very simple with little carvings and were available in very limited variety but with the increasing demand and innovations there are now many varieties of these available. These come in all shapes and sizes and can be placed anywhere that is indoor or outdoor. These form an important part of all hotels and resorts as they give a very natural look to the interiors and a clean organized look to the exteriors such as the gardens or pathways.
Even the sides of stairs in a garden area or within the hotel these planters are placed. A lot depends on the type of stone pot as well as the surroundings in which it is kept so leave this to us to match the best one that is aesthetically perfect with the interiors or exteriors of your home, office or building or open space.
Now a day's vases are very much in trend, these are made up of stones only, these are very good form of gift as well as these last for years. ENS offers a huge variety both in terms of shape, size and patterns of these. Stone which is most commonly used is sandstone but one can opt for marble or granite as well. Marble vase with golden work done on them forms a very smart decorative item. A big planter in middle of a garden will look very nice and it's a onetime investment. These are very heavy in their weight and thus there is no dangers of these falling or breaking.
We do make proper designing of these planters according to the space available in your house, building or open space. Undoubtedly, a space having these planters arranged in an order enhances the appeal of it. These are also not at all expensive if their long life and maintenance free nature is considered.