Standard Specifications
Sandstone is available in different forms such as natural sandstone tiles, sandstone flooring tiles, sandstone slabs, sandstone blocks, sandstone cut to size, sandstone random slabs, sandstone pavements, sandstone flags. The available finishes are natural, calibrated, honed, polished, flamed.
Chisel Splitting
: Depends on the type of stone
Finishes Offered
Both Faces Natural
One face natural, one face calibrated/Sawn Polished
Standard Thickness (mm)
10-20 mm
12 mm (± 1.5mm)
Standard Dimension (cm)
30 x 30 cm
60 x 30 cm
40 x 40 cm
60 x 40 cm
30 x 30 cm
60 x 30 cm
40 x 40 cm
60 x 40 cm
60 x 60 cm
75 x 60 cm
90 x 60 cm
Random Slabs1.8 -2 cm and 2.8 - 3 cm Thick
Cut to size tiles 1.8 - 2 cm and 2.8 - 3 cm Thick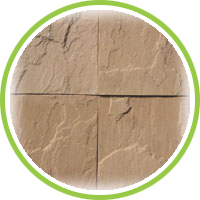 We can also supply sandstone in various other sizes and specifications to fulfill individual specific requirements. Each stone is unique in its characteristics and properties and hence variation must be expected. The given sizes and thickness are an approximation only and the stone pieces may vary in color, tone, marking and texture.
Applications
Sandstone is used for both domestic as well as commercial requirements. It is widely used in construction of buildings as a building stone. The architectural properties of sandstone has made it ideal for clad walls and floors and equally churn out an enamoring range of handcrafted artifacts like garden ornaments, sculptures and other decorative items.